Interactive Quixote
TheInteractive Quixote is a project offering an innovative approach to the first edition of Cervantes' most important work, conserved in the assets of the Biblioteca Nacional de España. Thanks to this initiative, it is possible to read Don Quixote as if you had the book in your hands, while at the same time accessing multimedia content which help contextualise the work.
The initiative started with high quality digitalisation of the copies the BNE holds of the first edition of Don Quixote: those published in Madrid in 1605 and in 1615; an interactive portal has been constructed around this new digitalisation, to which maps, engravings and other content has been added, taken from 43 different editions of Don Quixote and from a further 21 works, all belonging to the BNE.

Download viewer captures (zip, 10Mb)
View video presentation on YouTube.

To view theInteractive Don Quixote, you must have Adobe Flash Player installed on your computer
Features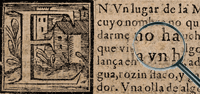 High quality zoom
Text searches
Modern transcript
Thumbnails
Full screen view
Print options
Activate background music
Share on Facebook
Help
Multimedia content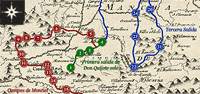 Adventure map
Editions over time
Book of knightly deeds
Life in the 17th century
Image gallery
Musical works of the period
Video
Project details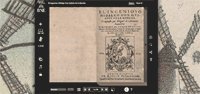 1,282 pages (the two parts)
43 editions of Don Quixote
165 illustrations and maps
37 front pages and covers
21 related works
13 music tracks
5,000 workhours
30 professionals from different fields
Real sound when turning the page