Interactive Leonardo
Interactive Leonardo is a tool for viewing the digital version of Leonardo da Vinci's Madrid Codices in addition to multiple functionalities which give greater insight into this Tuscan genius.
The notes and drawings in the Madrid Codices I and II differ in content, and also come from different periods.
Other contextual contents of interest include a chronology of Leonardo's life and an overview of the areas of knowledge and fields of art that this universal thinker addressed,
through works belonging to the holdings of the Biblioteca Nacional de España.
To view the Interactive Leonardo you need to have Adobe Flash Player installed on your computer.
A mailbox has been set up for users to report incidents.
Features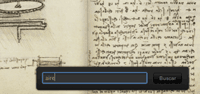 High quality zoom
Spectacular viewing
Searches
Transcription and translation
Subject index
Access to most frequently viewed pages
Views in miniature
Full screen view
Print options
Share on social networks
Multimedia content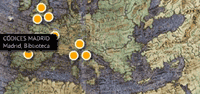 Chronology of Leonardo's life
The trades attributed to Leonardo
Codices in the world
Leonardo's Library
Historical, social and political context
Musical works of the period
Videos and 3D animations
Games
Project details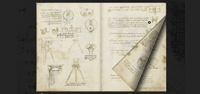 718 digitised pages
120 digitised works
100 interactive pages
138 multimedia contents
40 professionals from different fields
20,000 workhours
300 million different question and answer games
200 thousand different memory games