About us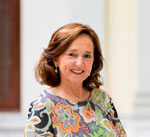 Ana Santos Aramburo, Library Director. (Enrique Cidoncha)
Spain's Biblioteca Nacional receives and stores copies of all the books published in Spain. It also holds an extremely valuable collection of incunabula, manuscripts, illustrations, drawings, photographs, audio recordings, musical scores, etc.
All you need to view these holdings is a reader's or researcher's card. The Exhibition Rooms and the Library Museum, where various exhibitions and cultural activities are held, are open to all.
To help you plan your visit to the Library, please see our practical information.
About us
Transparency