Cervantes room
The service will be available from Monday 8 June.

View all the information at the following link (pdf)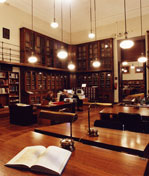 In this room users can consult the following collections:
How to use the holdings in this room:
In order to consult these holdings, users must have a researcher or reader card.
Requests in advance: In order to reduce waiting times, up to 10 volumes may be requested in advance, using the following form:
Direct request: you may ask the librarians directly for up to 3 volumes at a time, by filling in the corresponding form.
Holdings in the Alcalá de Henares depository: Some documents are held in remote depositories. If the document is in the Alcalá de Henares depositories, it will be delivered within 24 to 48 hours.
Free-access holdings: The reference collection is on the shelves in the room and may be accessed freely.
The room offers:
Microfilm readers
Computers for consultation
Wi-Fi
Practical information:
Monday to Friday, from 10:00 to 19:00.
Saturdays closed


For on-site access, prior appointment is needed with the BNE staff.

Recoletos Branch. 2nd floor of the south wing

Telephone numbers: 91 516 89 85 / 91 516 81 14