Goya room
The service will be available from Monday 8 June.

View all the information at the following link.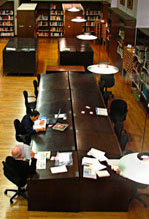 In this room users can consult the following collections:
How to use the holdings in this room:
In order to consult these holdings, users must have a researcher or reader card.
Requests in advance: In order to reduce waiting times, up to 10 volumes may be requested in advance, using the following form:
The following types of documents cannot be requested in advance: drawings, engravings, photographs, ephemera, maps and plans. These items must be requested directly in the Room.
Exceptionally, justified requests made in advance for the original graphic and cartographic material (maps and plans, engravings, drawings, photographs and ephemera) may be considered. These requests should be sent to the Department of Fine Arts and Cartography at sala.goya@bne.es.
Advance requests for posters kept at the Alcalá Headquarters (AHC/ and AHCC/ call numbers) will be made from the Library's own online catalogue.
Direct request: you may ask the librarians directly for up to 3 volumes at a time, by filling in the corresponding form.

Holdings in the Alcalá de Henares depository: Some documents are held in remote depositories. If the document is in the Alcalá de Henares depositories, it will be delivered within 24 to 48 hours.

Free-access holdings: The reference collection is on the shelves in the room and may be accessed freely.
The room offers:
Self-copy serviceMicrofilm readers
Computers for consultation
Wi-Fi
Practical information:
Monday to Friday, from 10:00 to 19:00.
Saturdays closed


For on-site access, prior appointment is needed with the BNE staff.

Recoletos Branch. 0 floor of the south wing

Telephone numbers:

(+34) 91 516 89 56 / 91 ( Sala Goya)
(+34) 91 580 78 15 / 781 (Drawings and Engravings)
(+34) 91 580 78 13 (Geography and Maps)