Goya room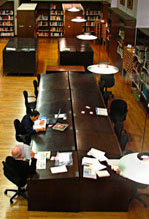 In this room users can consult the following collections:
How to access the holdings in this room
Currently it is only possible to access the BNE reading rooms with an appointment.
To consult the documents of any room, you must request the documents that you would like to view in advance. Once a request has been received, the BNE will contact the applicant to arrange the time of the visit.
The following types of documents cannot be requested in advance: drawings, engravings, photographs, ephemera, maps and plans. These items must be requested directly in the Room.
Exceptionally, justified requests made in advance for the original graphic and cartographic material (maps and plans, engravings, drawings, photographs and ephemera) may be considered. These requests should be sent to the Department of Fine Arts and Cartography at sala.goya@bne.es.
Advance requests for posters kept at the Alcalá Headquarters (AHC/ and AHCC/ call numbers) will be made from the Library's own online catalogue.

To consult the free access collections or to use the public computers, you must email the room where the archive is held.
Please find further information about the remaining measures and conditions affecting the loan service during the "new normal" period in this document (PDF).
The room offers:
Self-copy serviceMicrofilm readers
Computers for consultation
Wi-Fi
Practical information:
De lunes a viernes, de 09:00 a 20:00 h.
Sábados, cerrado.

Para el acceso presencial será necesaria la cita previa por parte del personal de la BNE.

Recoletos Branch. 0 floor of the south wing

Telephone numbers:

( 34) 91 516 89 56 / 91 ( Sala Goya)
( 34) 91 580 78 15 / 781 (Drawings and Engravings)
( 34) 91 580 78 13 (Geography and Maps)