Bibliographic Information Room
Due to measures taken in prevention of COVID-19 spread, this service is temporarily suspended. We will inform as soon as it is restored. Apologies for any inconvenience caused.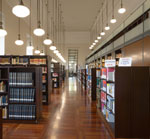 In this room users can consult the following collection:
How to consult the holdings in this room
To access the room you need a researcher's, reader's or library documentation card.

Free-access holdings: The reference collection is on the shelves in the room and may be accessed freely.
Home loan from the Library Documentation Collection: 3 copies can be borrowed at home for 10 days, and the loan can be renewed twice for another 10 days each renewal. Renewals can be requested in person, by phone, or by email. Copies that are out on loan to other users can also be reserved.
The room offers:
Photocopy machine
Microfilm readers
Computers for consultation
Wi-Fi
Practical information:
Monday to Friday, from 9am to 8pm..
Saturdays, from 9am to 2pm.

Summer opening times (16 June to 15 September):


Monday to Friday, from 09:00 to 19:30.
Saturdays closed.


Recoletos Building. 2nd Floor of the North Wing

Telephone number: (+34) 91 580 78 06 / E-mail

Fax: (+34) 91 580 78 57