Larra Newspaper and Magazine room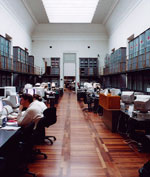 In this room users can consult the following collection:
How to access the holdings in this room
Currently it is only possible to access the BNE reading rooms with an appointment.
To consult the documents of any room, you must request the documents that you would like to view in advance. Once a request has been received, the BNE will contact the applicant to arrange the time of the visit.
To consult the free access collections or to use the public computers, you must email the room where the archive is held.
Please find further information about the remaining measures and conditions affecting the loan service during the "new normal" period in this document (PDF).
The room offers:
Photocopy machine
Microfilm readers
Computers for consultation
Wi-Fi
Practical information:
Monday to Friday, from 09:00 to 20:00.
Saturdays closed


Summer opening times (16 June to 15 September):
Monday to Friday, from 09:00 to 19:30.
Saturdays closed.

For on-site access, prior appointment is needed with the BNE staff.

The consultation of the works is realized in María Moliner Reading Room.

Recoletos Branch. 4th Floor of the north wing

Telephone number: (+34) 91 580 77 93 / 94 (printed publications)

(+34) 91 580 77 07 / 91 516 89 19 (scanned and microfilmed publications)